SPORTS PAVILION
CCCS is very fortunate to have one of the most scenic and historic playing fields in the country, Christ Church's Merton Field, right on the edge of the world-famous Christ Church Meadow. With its splendid views of three Oxford colleges – Christ Church, Corpus Christi and Merton – and its majestic ancient trees, Merton Field is one of the finest features of our School and we are rightly very proud of it.
Sport has always played a vital part of the education provided by the School and it makes a real impact on our pupils' overall experience of the School. We pride ourselves on the many outstanding sporting successes of our current pupils, as well as our Old Boys, who include the Gloucestershire county cricketer, Miles Hammond (CCCS, 2007-2009) and the British National League Ice Hockey player, Adam Dobson (CCCS, 1989-1997).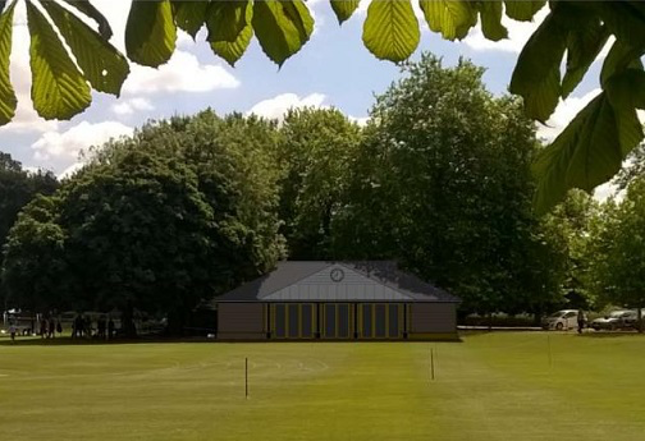 "We invite all of our School's supporters to take part in this campaign, as every gift large or small will make a huge difference in reaching our target."

Richard Murray, Headmaster.
Not only does Merton Field provide a wonderful setting for our many sporting activities, matches and School social events – including our annual Sports Day and Meadow Fair, Old Boys' events and other celebratory occasions – but it is also home to our Woodland School, in which our pupils study nature, learn about the environment and reflect on the challenges faced by the natural world. From the Woodland School trail, pupils can look across Christ Church Meadow and watch its deer, foxes and herd of cattle at close hand.
To accommodate the growing needs of our School and to enhance our pupils' educational experiences, the School's Senior Management Team and Parents' Association conceived the idea of a new Pavilion to replace the existing small timber structure.
The new Pavilion will be a multipurpose facility for sport, outdoor learning and social events. It will give the School the base from which to expand all these activities, and provide the opportunity for us to host more home matches and engage in community outreach events involving other local schools.
Designed by Oxford's Montgomery Architects, the Pavilion will feature two changing rooms and a designated area for kit storage. The spacious social area and terrace will include spectator seating with stunning views across Merton Field. On match days, the reception room will be used to provide match teas and drinks for players and spectators. The new Pavilion will also serve as an additional venue for our School's Old Boys, who will be able to enjoy their annual Cricket Match and Barbeque on the premises, as well as their other social gatherings. Please watch our fly-over video below.
Our architect and building surveyor have estimated the total construction cost of the project at approximately £850,000 (including the fitting-out costs).
"A gift of £13.34 per month (with Gift Aid) over five years will add up to £ 1,000 and comes with recognition opportunities"

Richard Murray, Headmaster.
You can help us to deliver this exciting project by making a contribution at any level towards the overall target. To acknowledge the generosity of our donors, their names will be recorded on a commemorative board in the Pavilion's main reception area, offering enduring recognition and gratitude for the contribution they will have made to our School.
For those attracted by a naming opportunity, we have identified a small number of significant aspects of the new building which offer themselves as unique bespoke gift options, and a wonderful way of commemorating current or former pupils' time at the School - or the generosity of other sponsors - in perpetuity.
| Value to the School | Requires one-off gift (Net of Gift Aid) | Total net cost for higher rate tax payer (40%) | Total net cost for higher rate tax payer (45%) | Equivalent annual gift over five years | Equivalent monthly gift over five years |
| --- | --- | --- | --- | --- | --- |
| £300,000 | £240,000 | £180,000 | £165,000 | £48,000 | £4,002 |
| £100,000 | £80,000 | £60,000 | £55,000 | £16,000 | £1,334 |
| £50,000 | £40,000 | £30,000 | £27,500 | £8,000 | £667 |
| £25,000 | £20,000 | £15,000 | £13,750 | £4,000 | £333.50 |
| £10,000 | £8,000 | £6,000 | £5,500 | £1,600 | £133.40 |
| £5,000 | £4,000 | £3,000 | £2,750 | £800 | £66.70 |
| £2,500 | £2,000 | £1,500 | £1,375 | £400 | £33.35 |
| £1,000 | £800 | £600 | £550 | £160 | £13.34 |
| £500 | £400 | £300 | £275 | £80 | £6.67 |
Alternatively, please contact: accounts@cccs.org.uk, who will be delighted to discuss the details with you either on the telephone or in person.