OUR HISTORY
Cardinal Wolsey, one of the most remarkable men in the colourful annals of English history, decided to found a college in Oxford which was to be grander than any other.
In order to do so, he suppressed 13 monasteries including the Priory of St Frideswide in Oxford, whose buildings were to form the heart of his new college.
He started building in 1525 and, by the time that he fell from grace for failing to engineer Henry VIII's divorce from Katherine of Aragon four years later, he had built the Kitchen, the Hall and three sides of his magnificent Tom Quad.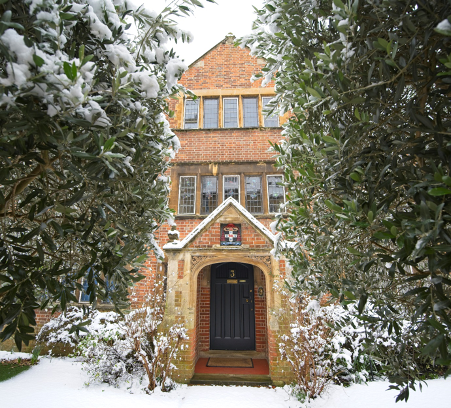 "We chose CCCS because we wanted a school that stretched our son academically without downplaying the arts, sports, or exploration. We appreciate the small class sizes, as well as the close interaction between boys in different year groups"

A PARENT.
He had also appointed the greatest church composer of the day, John Taverner, to conduct the choir he had founded which consisted of 16 choristers and 12 lay clerks.
It is from these origins that the School derives. Following Wolsey's demise, Henry VIII adopted the College and refounded it, initially as King's College. But he had further plans and, in 1546, right at the end of his life, he decided to combine it with the new diocese that he had decided to found in Oxford and so created Christ Church which is a unique institution comprising both College and Cathedral. Christ Church also had a choir, but this time it was comprised of only eight choristers. Initially the School was underneath Wolsey's Great Dining Hall but in 1892, Dean Liddell, whose daughter was immortalised by Lewis Carroll, a maths tutor at Christ Church, as Alice in Wonderland, constructed a school building on Brewer Street which we still use today. From then on the School has remained on the west side of St Aldates.
In 1720, the choristers set fire to the Christmas tree in the Hall, an act which severely damaged the magnificent roof and led to the deepening of Mercury, the pond in the middle of Tom Quad, as a reservoir for water in case of fires.
PRESS PLAY TO LEARN MORE ABOUT OUR HISTORY