SPORT
"Sport is on Merton Field, where spectators can't be blamed for occasionally taking their eyes off the action to appreciate the towers and spires of this heritage city"

Tatler 2021.
At CCCS boys have the opportunity to play a wide range of sports: rugby, football, cricket, tennis, swimming, squash, athletics, hockey, basketball and badminton. We are proud of our inclusive attitude to sport, believing strongly in "Sport for All". Contrary to what you might conclude from this approach, this year we have won more fixtures than we have lost and every year we produce sportsmen who are amongst the very best in their age group when they arrive at their senior schools.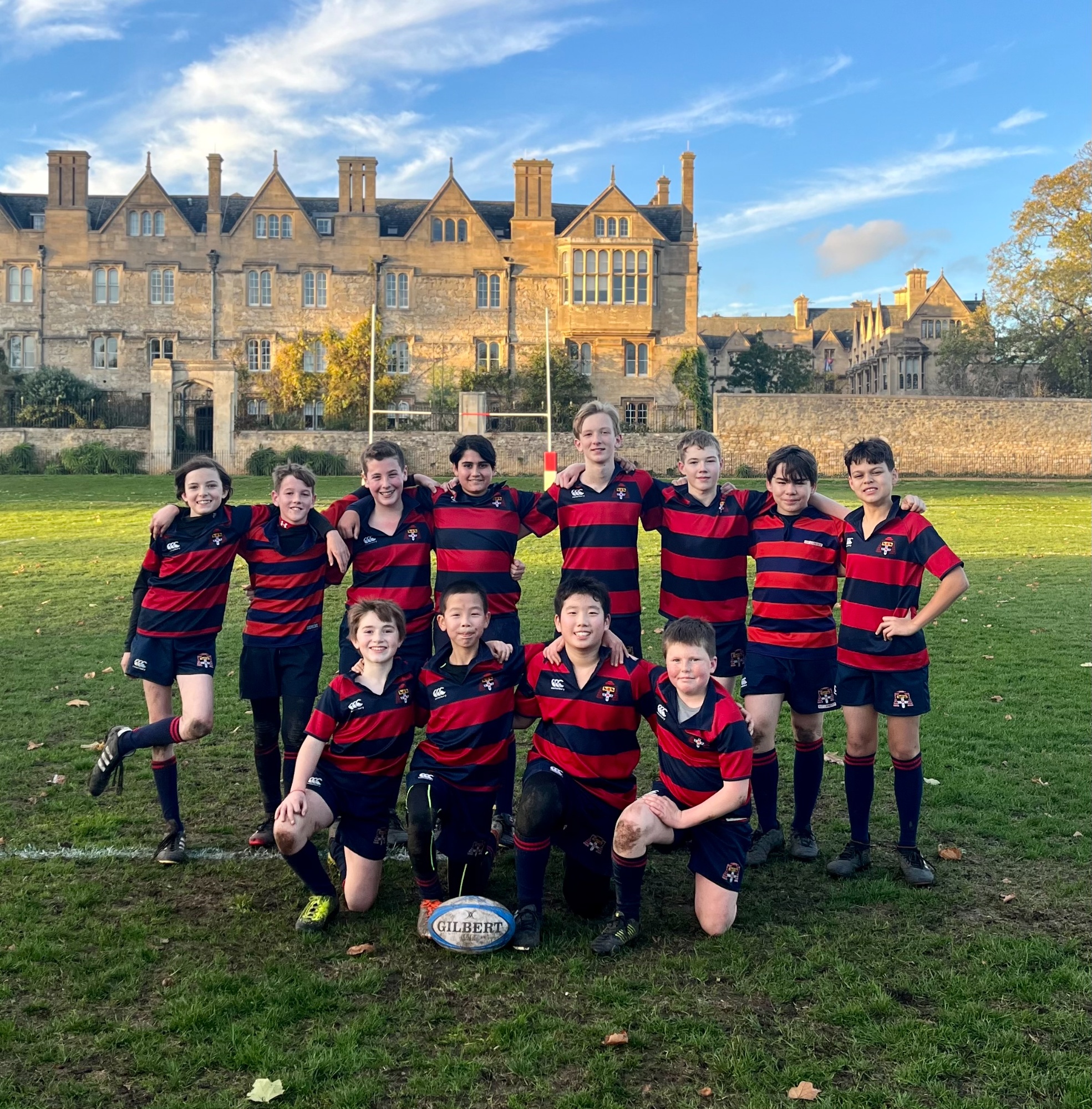 We have matches every week, often played on our incomparable playing fields over on Merton Field by Christ Church Meadow. Every boy has the opportunity to represent the school in weekly fixtures against local prep schools – there is no sense in which we are a school where only the sporty pupils play in teams. Boys gain huge confidence from representing their school on the games field; indeed the effect of taking part is transformational for many pupils. With expert specialist games coaches, we aim to deliver sport-specific and ability-appropriate games sessions that enable the pupil to develop and improve whilst at the same time having an experience which is fun and rewarding. We pride ourselves on the level of coaching we provide. As a result, we field extremely competitive teams.
Our current curriculum includes four main sports – Rugby in Michaelmas Term, Football and Hockey in Hilary Term and Cricket in Trinity Term. For all these sports there are regular fixtures. We also offer Tennis and Athletics during Trinity Term. Boys participate in PE lessons from Years 3 – 8. Boys in Years 3 & 4 complete a two-year programme of Swimming at the Oxford University pool with fully qualified swimming coaches. In Years 5 – 8, we complement our games programme with sessions in Basketball, Badminton and Athletics at the Oxford University sports hall.
Along with our unrivalled games fields, situated in some of the most beautiful grounds in the country, the School also has access to the Christ Church squash courts, hockey astro, tennis courts and a four-lane cricket net facility. We also use the Real Tennis court on Merton Street and many boys enjoy playing the game most beloved of our founder, Henry VIII.
We have a popular after-school club programme including, Tennis, Football, Rugby and Multi Sports. Towards the end of Trinity Term, we hold our annual Sports Day; this athletic event is the pinnacle of our house competition and our three houses, Carroll, Sayers and Wolsey battle it out for the much-desired Dean's Cup.