MUSIC & CHOIRS
PRESS PLAY TO VIEW VIDEO
Fine music-making is at the heart of CCCS, being an 'everyday' part of school life in the very best sense of the word.
We are unique in the UK as a choir school with three sets of choristers: boys who sing in the chapel choirs of Worcester and Pembroke Colleges, and the Cathedral choristers for whom CCCS was founded. Our choristers are treated as professionals, but singing in school is always an inclusive activity ... sometimes serious but often great fun, too! The confidence, self-expression, teamwork and discipline developed through singing are hugely beneficial for choristers and non-choristers alike.
"It's as if there's a tacit agreement here to love music for music's sake, rather than trying to out-do one another. 'They whoop and clap for each other,' parents say, 'aware of how good the other is without there being nastiness"

Good schools guide 2023.
In addition to its renowned choral life, the school fosters excellence in instrumental music. We host busy practical examination sessions at the end of each term (frequently featuring successes at Grades 6, 7 and 8) and boys at a suitable level are prepared for National Children's Orchestra and County Music auditions. A large number of boys gain musical awards at their senior schools and we maintain warm relationships with senior school music departments from across the country. Candidates are prepared for a wide variety of destinations, and it is not uncommon for half of a leaving year group to win musical Scholarships and Exhibitions. More details can be found here.
Boys who join the school without a previous interest in music can find themselves quickly drawn in by the broad range of options. From Reception to Year 6 pupils receive two specialist Music lessons per week, dropping down to one lesson per week for Years 7 and 8. The curriculum is carefully designed to build a curiosity and love for the subject amongst all pupils, based around the exploration of music from a variety of styles and time periods as well as plenty of practical, performing and creative activities.
"Since singing is so good a thing, I wish all men would learn to sing"

William Byrd.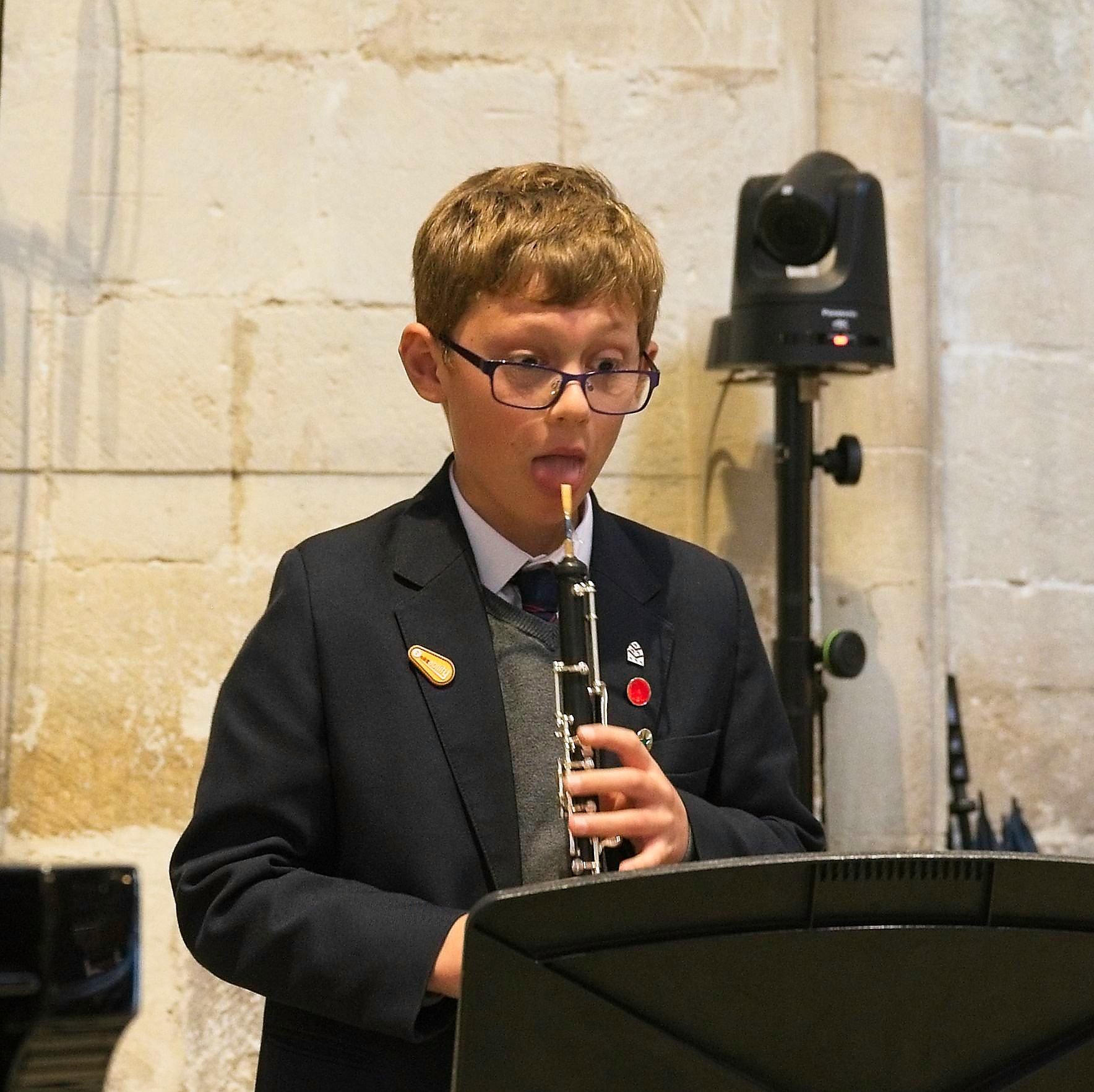 Almost every pupil in the Prep department learns an instrument and nearly half choose to learn two. From Form 2 upwards we offer individual tuition on all orchestral instruments from the harp to the trombone, as well as guitar, saxophone, recorder, organ, voice and piano, taught by an experienced team of visiting staff. Boys may join the String Orchestra, Big Band, Lower Strings Ensemble, Double Reeds Ensemble, String Quartet, Guitar Group and Brass Ensemble, but they often form their own groups too! Sibelius software can be used in the IT Room, where composition is often popular, and most rooms contain a piano. There are performance opportunities at every conceivable level throughout the year, from regular informal class concerts to larger events for ensembles and soloists in the Cathedral. Participation is key, with boys of all standards encouraged to see performance as a natural, enjoyable way to share their musicianship.