FREQUENTLY ASKED QUESTIONS
F.A.Q.'s ABOUT CHORISTERSHIPS:
"Music is the life and breath of CCCS, which educates the choristers of Christ College Cathedral as well as Pembroke and Worcester Colleges"

Tatler 2021.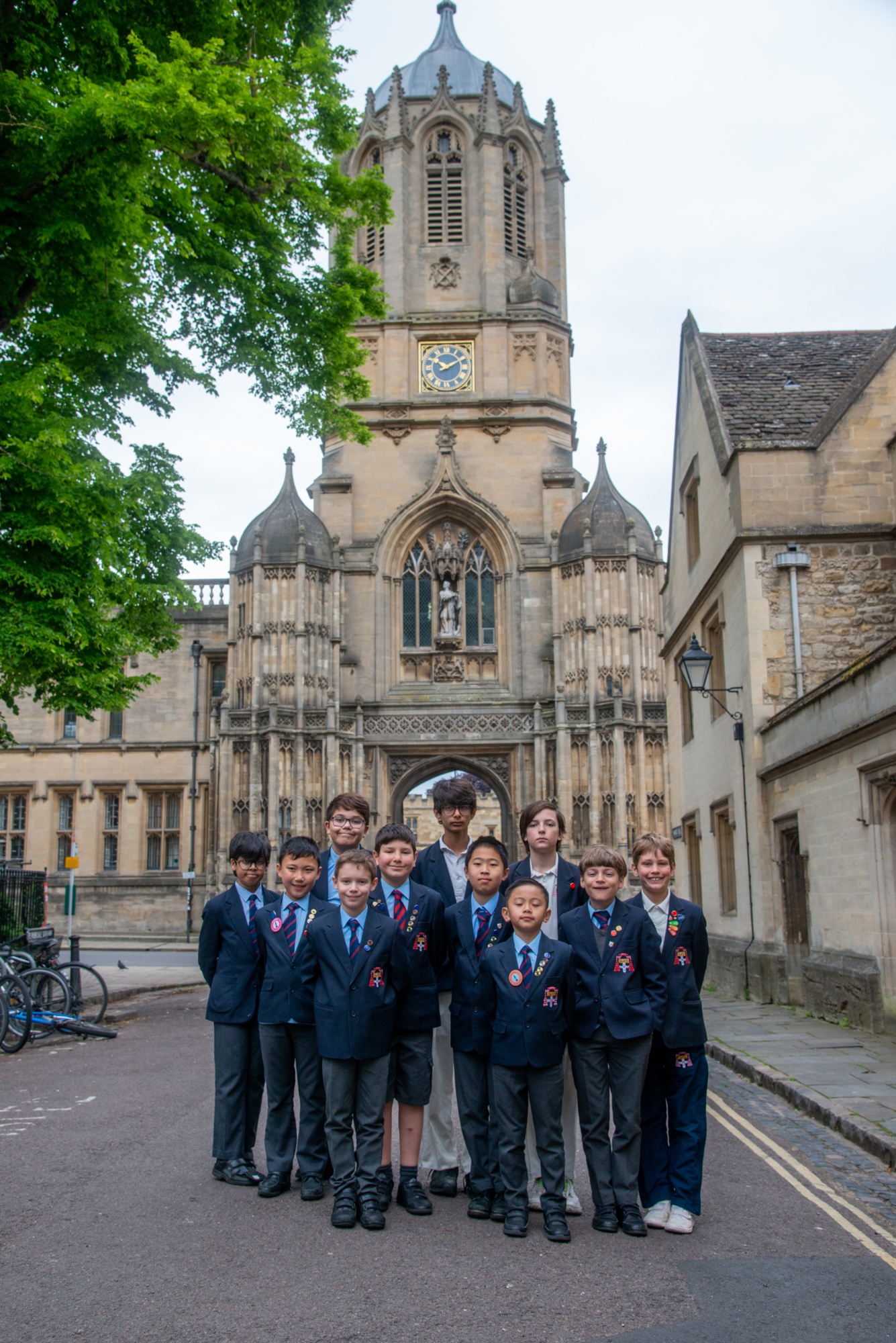 WHAT IS A CHORISTER?
The word 'chorister' can refer to anyone who sings in a choir, but at CCCS it refers specifically to the boys who sing the highest part in a chapel or Cathedral choir.
WHAT ARE THE BENEFITS OF BEING A CHORISTER?
There are obvious musical benefits (high-quality vocal training, learning to read music confidently, exploring a huge repertoire that spans over 500 years), but many others too. Choristers develop confidence through their frequent performances, and they learn a real sense of camaraderie within their musical 'team'. They improve their focus, sing in different languages, work hard under pressure, and get to perform on the same footing as the adults in their choir – quite an achievement at the age of 9. Senior choristers become reliable leaders who look out for their younger peers, and (if you like singing) they have plenty of fun, too!
AT WHAT AGE SHOULD MY SON AUDITION TO BE A CHORISTER?
Boys generally attend voice trials (auditions) between the ages of 6 and 8, although these are most commonly held during Year 3 for entry in Form 4. It is possible for a strong candidate to be admitted at an older age if there is space in the choir.
WHAT HAPPENS AT A VOICE TRIAL (AUDITION)?
The most important thing to mention is that it's not scary at all! The music staff are keen to put candidates at ease, as they will only show their true potential if they are relaxed. Boys should bring along one piece to sing, which could be anything from a song learnt at school to a Christmas carol or even a nursery rhyme. It is important that they choose something which they enjoy, and it doesn't have to be 'difficult'; a simple, gentle tune is often the best way to show off the voice. There is no need to have formal singing lessons beforehand, as we look for promising young musicians who would benefit from chorister training; not a singer who is already moulded.
There will also be some aural tests, where candidates may be asked (for example) to sing a melody, clap a rhythm, or pick out a single note from a cluster of sounds on the piano. If a boy already plays an instrument we would be keen to hear this too, though it's not essential.
WHAT WILL THE MUSIC STAFF BE LOOKING FOR IN A CHORISTER?
A clear voice, a good ear, curiosity, responsiveness, a lively personality ... but above all, an enthusiasm for singing!
WHAT IS A PROBATIONER?
For roughly the first year or so when a boy becomes a chorister, he will be known as a 'Probationer'. This means he is learning the ropes: developing his theory skills, familiarising himself with the repertoire, and learning to read notation. Probationer choristers are carefully trained by the choir's Director and organ scholars, as well as receiving guidance from the older boys in the choir.
DO YOU HAVE TO BE RELIGIOUS TO BE A CHORISTER?
No. We proudly welcome boys from all faith traditions and none, and there is no expectation that a candidate will have attended a church before becoming a chorister. They will need to be comfortable with the idea of singing Christian music in a chapel or Cathedral setting.
DO ALL CHORISTERS PLAY INSTRUMENTS?
The Cathedral choristers all learn to play two: one 'harmony' instrument (e.g. piano or harp) and one orchestral instrumental. Studying an instrument is optional for the Worcester and Pembroke choristers, although in reality almost every boy chooses to learn at least one.
DO CHORISTERS ONLY SING AT EVENSONG?
No, there are a growing number of opportunities to participate in exciting events such as concerts, trips, tours, recordings and broadcasts. In the past few years the Cathedral choristers have toured to China, Canada, USA, Oman and Sweden, and Worcester Choir has toured to Germany and Italy.
WHAT HAPPENS IF MY SON'S VOICE CHANGES ('BREAKS')?
In all three CCCS choirs, boys can move to sing with the 'back rows' as soon as their new voice has started to settle. This gives them the opportunity to learn tenor and bass parts alongside the adults who sing with the choir: an invaluable musical training in itself, which gives a head start to boys' musical careers when they move on from CCCS.
HOW DO CHORISTER REHEARSALS FIT IN THE SCHOOL DAY?
Chorister rehearsals all take place before school, and evensongs happen either after school or at the weekend. During the school day all choristers have exactly the same opportunities to participate in activities (including sport) as any other pupil. Every effort is taken to carefully balance choir commitments with school life. Worcester and Pembroke sing services only during University term-time, and the Cathedral choristers sing throughout the term, as well as at Christmas and Easter – their busiest times of year!
WHAT FINANCIAL ASSISTANCE IS AVAILABLE TO CHORISTERS?
Every Cathedral chorister receives a reduction of at least two-thirds of school fees, in recognition of their substantial contribution to the choir. There are means-tested bursaries available for up to 100% of fees. Cathedral choristers receive free tuition in two instruments, and activities such as international tours are fully funded.
Worcester choristers receive free weekly singing lessons and Pembroke choristers receive 'pocket money' to reward their commitment to their respective choirs. There are also several generous Simon Arnold Scholarships available, which provide free piano lessons for a number of our Worcester and Pembroke choristers.
WHAT HAPPENS WHEN MY SON LEAVES CCCS?
The 'next step' for many choristers is an application for a music award to their next school, with auditions generally taking place in January and February of a boy's final year at CCCS. Choristers are in high demand at senior schools due to their maturity, work ethic, good time management and excellent musicianship, so generous means-tested bursaries often accompany these awards.
Full support is given by school staff in preparation for these auditions, and Miss Biddell is always happy to offer advice on senior school music departments. Choristers in all three of our choirs have won music awards to prestigious schools, and for Cathedral choristers in particular this is a key part of their musical experience at CCCS.
HOW CAN MY SON FIND OUT WHAT IT'S LIKE TO BE A CHORISTER?
The Cathedral choir organizes regular 'Chorister for a Day' events, where boys get to spend time at CCCS and in the Cathedral. They participate in a range of fun musical activities, meeting staff and current boys, as well as singing Evensong with the choir. Please contact Mrs Kemp, our registrar (registrar@cccs.org.uk), for more information on the next ' Chorister for a Day' event.
Pembroke and Worcester choirs sing regularly at Evensong in their chapels, and the Cathedral Choristers sings on five days of the week during term time. These services are free and almost always open to the public, giving a wonderful opportunity for visitors to see the choirs in action. Details of upcoming events can be found at the following websites:
https://www.chch.ox.ac.uk/cathedral-services
https://www.pmb.ox.ac.uk/faith-and-chaplaincy
Have any more questions? If you are curious about choristerships, there is nothing to lose by getting in touch! The music staff are always happy to speak to interested families.