WORLD BOOK DAY 2022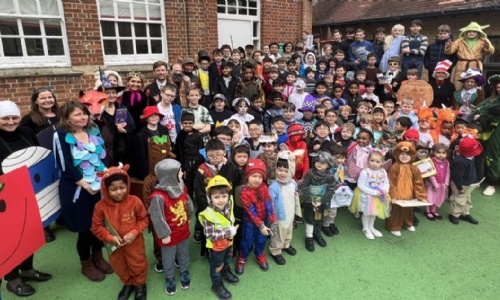 ..
World Book Day brought the usual wonderful variety of costumes (a record number of Harry Potters – and indeed Muggles – this year, I think) and it was lovely to see how much time and effort had been put into making them by parents of boys both young and old.
The day began with a splendidly light-hearted drama improvisation from the whole of Year 7, who performed six different versions of the story of Goldilocks… the point being that once you have a sound core story (yes: scene, characters, conflict, crisis and resolution) you can bring your own imagination to it and tell it any way you like. The English Department then had reading lessons (obvs.) and the boys, books in hand, became absorbed. Trainee Literacy Support Dog, Tikka, was hard at work in Wolsey, as were Gordon and Thistle in Pre-Prep, and then it was on to lunch, a splendidly Roald Dahl themed meal, organised by Mrs Green and prepared by Mr Kilby and his team.
It has been super to gather that so many boys and their families are balancing screen time with reading time and once again may I take the opportunity to encourage that a ratio of about 1:3 is, I think, perfect. Screen time is there as a treat… and the other three quarters of our sedentary leisure can be spent developing our imaginations, concentration span and, well, characters.