HOUSE MUSIC COMPETITION PREP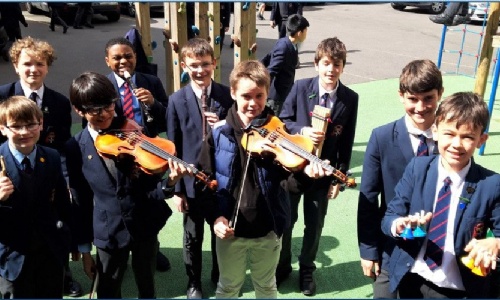 House Music Competition 2022
We have so enjoyed hearing auditions for this year's Music Competition, which have - for the first time - spilled out into wonderous al fresco break-time performances. As well as auditioning with their 'serious' pieces, boys have been busy teaching each other different instruments, to win as many points as possible.
String players have been teaching the viola to wind players, brass players have been teaching the horn to woodwind players, and we've even had the saxophone and oboe taught by Form 4 boys to their friends. We have loved hearing so many boys getting an insight into the challenges of new instruments. As infinite performances of 'Hot Cross Buns' echo across school, we're all reminded that this really is a competition for everybody, no matter the stage of their musical life!
The Music Competition final will take place in the Cathedral at 1.30 pm on Friday 20th May. Every Prep boy will be involved in the House choir performances too. good luck everyone!